KLOOT BOX: BTS
$49.95
Regular price
$54.95
THE BTS KLOOT BOX.
Kloot Box Team will specially curate and fill your monthly BTS Kloot Box with tons of mystery exclusive BTS merchandise to your preferences. Kloot Box aims to provide global Armys an easy & fun way of collecting and repping merch that reflects their fave KPOP group. It's what the most loyal Army deserves no matter where and how you support them <3

What type of items can I expect?

In each Kloot Box, you can expect a variety of fan-made BTS merchandise + Korean snacks + K-lifestyle items! The best part? You won't know what you're getting until it arrives to your doorstop. You'll be in for a surprise with items ranging from photocards, keychains, stationery, pillows, bottles, posters, apparel, snacks, and more!
If you choose to order a Kloot Box WITH a mystery album, we will put a random official album in your Kloot Box for an even more fun unboxing!
Customer Reviews
02/25/2021
Maria E.

Spain
I recommend this product
Maria Elena
It was a mixing, I wasn't expecting that. I Love it
Hi Maria, we're so happy you loved the mystery items you received in your Kloot Box!
02/24/2021
Marina A.

United States
I recommend this product
First time buyer...I love it!!
It was wonderful and I recommend buying. Although I completely forgot I purchased the item it did meet my needs for my kpop addiction, haha. I will definitely buy from them again!!! :D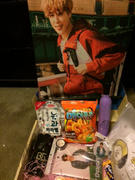 Hi Marina! Thank you for being so kind and letting us know you loved your Kloot Box! Thank you also for showing us pictures of what you received >3 We hope you shop with us again in the future as we're constantly improving!
02/23/2021
Mckenzie O.

United States
I recommend this product
Pretty good
It was okay. I didn't get really anything BTS themed. I got one photo frame, and a headband that wasn't a BTS character?
Hi Mckenzie! We're so happy to hear you loved what you received! We are working on expanding Kloot Box to include more merch going forward. Thank you for your constructive criticism!
02/16/2021
Alyssa G.

United States
I recommend this product
Unsatisfied
Although happy with the box itself, I cancelled my subscription because I never received the second month's box after waiting patiently for the 1st box.
Hello Alyssa, I'm sorry to hear you have yet to receive your second Kloot Box. Due to the pandemic, some parcels may experience heavy delays but we can assure you your second box has been shipped and it will arrive inevitably. Please email us at hello@klootbox.com so we can help you further with more details.
02/15/2021
Alejandra V.

United States
I recommend this product
Cute things, took too long, some came broken
Some items arrived broken, the box was all squished when I received it. I contacted Customer service and they never reached out to me.
Hello Alejandra! I'm sorry to hear about the broken item(s). Can you please email us hello@klootbox.com photos so we can help you further? I searched your email but no results come up. We answer all our customer emails.